Treat yourself to the world's warmest sleeping mats - down filled Exped Down Mats for hire. Complement your down sleeping bag hire with lightweight Exped down mattress hire or Therm-a-Rest self inflating foam mattress hire. Many trekking companies state they supply mats but if you think you can get a good night sleeping on 1cm of foam then good luck.
We only rent tried and tested expedition kit from leading down and synthetic sleeping mat manufacturers such as Exped, Therm-a-rest, and Big Agnes. Snow and ice ready Vapour Barrier Liner Bag hire also available.
Please specify your temperature range requirements when ordering, so we can bespoke our recommendations to the climate you will be travelling in. Expedition Kit Hire Special: Liners can be hired for as little as £3 please specify when ordering. REG AND XL VERSIONS AVAILABLE.
Sleeping Mat, Thermarest Hire and accessories hire
4 season Air/Foam Self Inflating Thermarest Mattresses Hire

We hire Therm-a-Rest, Pacific Outdoor Equipment, Big Agnes sleeping pads. Please specify your preference when ordering. These are all over 3.8cm thick with some as thick as 6cm which offers excellent comfort. e.g. Hire Big Agnes Dual Core Mattress.
Weight 822g. R-Value 5.0; 4 season; Size (inch) 20 x 72 x 2.5. Packed (inch) 13x6


HIGHLY RECOMMENDED FOR KILIMANJARO DUE TO THE ROCKY CAMPSITES.

4-5 Season Exped DownMat 9cm & Synmat 9 LW Hire RRP £200 Ultimate comfort

The warmest most comfortable mat we have ever slept on!Size197 x 65 x 9 cm
Weight 970 g, Packsack 24 g
Packed27 x 16 cm
Temperature-38º C
R-Values 6.0-8.0Fill Weight320 g 700 in/oz high loft Goose down

HIGHLY RECOMMENDED FOR ANYONE LOOKING FOR A BED LIKE SLEEP OR WHO SUFFERS WITH BACK PROBLEMS. PACKS DOWN TO SAME SIZE AS A REGULAR THERM-A-REST. AVAIABLE IN LW(LONG & WIDE >6'2) OR M(MEDIUM/STANDARD<6'2)
TIP IS TO LEAVE THE MAT UNROLLED FOR A WHILE PRIOR TO TRYING TO INFLATE THIS WILL GIVE THE FOAM PUMP TIME TO EXPAND AFTER BEING ROLLED UP THUS WORKING MORE EFFICIENTLY
Lightweight Air/Foam Mattresses Hire

We hire

Big Agnes Aircore,

sleeping mattresses and pads. Please specify your preference (length/weight) when ordering. These are over 6cm thick which offers excellent comfort.

e.g. Hire Big Agnes Air Core

Mattress

Weight 538g; R-Value 1; 2 season; Size (inch) 20 x 72 x 2.5 - Packed (inch) 4x8

Exped and Mammut Inflatable Pillow Hire

The secret to a good nights sleep is to replicate your bed in the field.

Having just the soft inflatable mat is only half the job.

These inflatable pillows are ideal.
Super small pack size of about an apple and weight just 85grams.

Contoured for side and back sleepers' head positions

Hire the exped pillows for an improved nights sleep.

Exped Synmat UL S Inflatable sleeping mat hire
Cracking peice of kit. A 3-4 season mat rated to -4c, 7cm thick, 163cm long, 52cm wide and just 405 grams without stuff sac and repair kit. We know that unless you have access to a bath of water you will struggle to fi
nd a leak/hole in the field, trust us we have been there. Took less than a minute to blow up. 7cm really does give a much better sleep than 2.5cm which most similar rated mats are. Now in stock for those who appreciate a good nights sleep this summer.
Multi Mat adventurer foam sleeping mat
Basic indestructible foam mat. 100% British manufactured, using unique, ultra-lightweight, premium-quality, physically cross-linked polyolefin foam. Giving a compact, quality, durable solution for competitive racing, adventure sports and lightweight backpacking.

Individually tested & fully guaranteed

Mats supplied rolled, with eyelets and lightweight attached webbing.


These are a excellent back up for serious expeditions where an inflatable foam mat is punctured or where additional insulation is required.
Compressible Dry Bag for keeping your sleeping bag, clothing and electronics dry.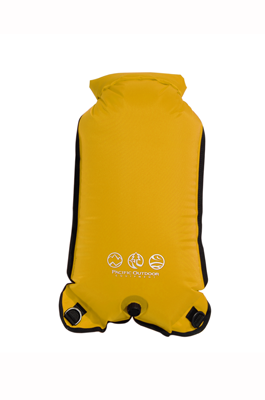 These compressible dry bags have a valve which you open when stuffing your sleeping bag inside making it easier to compress down. Simply roll down the top and screw up the valve and you have your sleeping bag in a drybag. Essential for anywhere it is likely to rain or your likely to come in contact with water. Always store fluids inside your pack outside of drybags. We have sizes from 25, 50, 59 and 109 litres. 25 ltrs is ideal for your day sac, 109 is ideal for your duffle bag when on Kili etc. PLEASE STATE SIZE WHEN ORDERING.